HOW TO APPROACH LIVING BEAUTIFULLY (PART 1)
If there can be such a thing as a formula to the problem of clutter, it would be this list of powerful ideas. Take stock; set your vision; identify any constraints, such as fear, shame, guilt or sentimentality; overestimating value of an item to you or an intended recipient; no time; having two of everything, for ordinary and special occasions. 

TAKE STOCK OF WHERE YOU ARE IN LIFE

Start by being honest, but gentle, with yourself about where you are in your life.

This is a practical philosophy story; therefore, we have to start with something hokey. Don't beat yourself up if you're unhappy with where you're at in your life. For starters, it doesn't help. Think of all that conventional wisdom, from the serenity prayer to the spilt-milk genre. You're taking stock so that you can plan the next chapter. Simple realism is all that you require at this stage, not self-flagellation. This may be easier said than done, but you have to do it.
Storytime - Catharsis 
A client was going through a very unpleasant divorce, her husband having left her and her children for another woman. She was forced to move out of their family home and pack their lifetime of memories into boxes, which were stacked in her double garage. She could not face unpacking the boxes on her own, for the memories and emotions that unpacking them would dredge up. 
Together with her, we tackled the task of unpacking, sorting and disposing of (most of) their contents over several days. The process was an emotionally-fraught one, but was also an extremely cathartic one. At the end of the project, she was smiling and had stopped beating herself up over the breakdown of her marriage, to the extent that she signed the divorce papers on the final day of the project. 
Do remember to take into account actual or likely life-changing events. We think everyone underestimates the power of long-range planning that takes account of the likely events that may impact your chosen lifestyle.

Storytime - Seeing around corners
When our family went to live in Shanghai and Hong Kong for five years, we turned our Johannesburg home into a guest house, learning a new business, providing jobs for our helper and gardener and ensuring that we had a home on our planned return. When we came back, we shut the guest house down early and renovated to ensure appropriate accommodation for our children through their teenage and early adult years, if they so chose. In the designs, we provided that our home could be reconverted into an even better, more upmarket guest house if they decided to leave home earlier and we didn't want to ramble around in that space. We also ensured that the designs were appealing for re-sale if that's what we decided to do then. 
 We tried to plan for every scenario that we could envisage, including the present. The planning served us well. Living this philosophy has that kind of impact.
In a country like South Africa, the middle class has more space available relative to their peers in developed countries. If you like the space and think this is only a benefit, then (given our definition of clutter) you don't have a problem. Just remember that space tends to lead to the accumulation of too much stuff, and be mindful about the risk.

Storytime - What is hiding in your garage, storeroom, garden shed or basement?
Its the first question we always ask clients when they request our services to help declutter their homes. We call these areas of the homes the 'black holes' of clutter. In the suburban context, most homes have at least a single garage, but approximately 60% of our clients cannot park their cars in the garage because they are used as storerooms. Extra space = space to keep unnecessary clutter.
Pro-tip -  Storage spaces are living spaces
Treat your garage, storeroom, garden shed and basement/cellar like another room in your house; one that you would be comfortable to walk through, live-in and look at every day, without feelings of apprehension, anxiety and stress caused by clutter.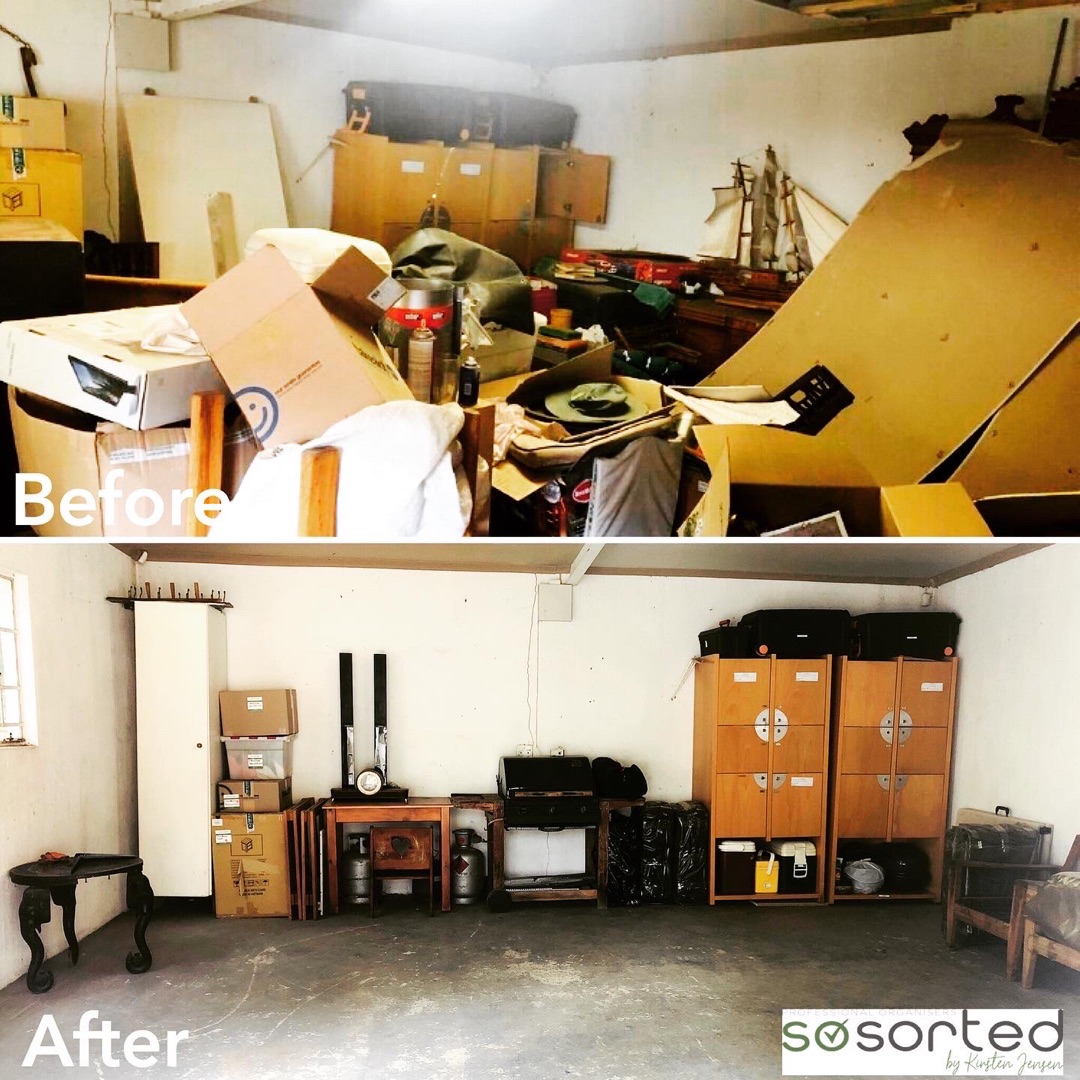 GET RID OF UNWANTED ITEMS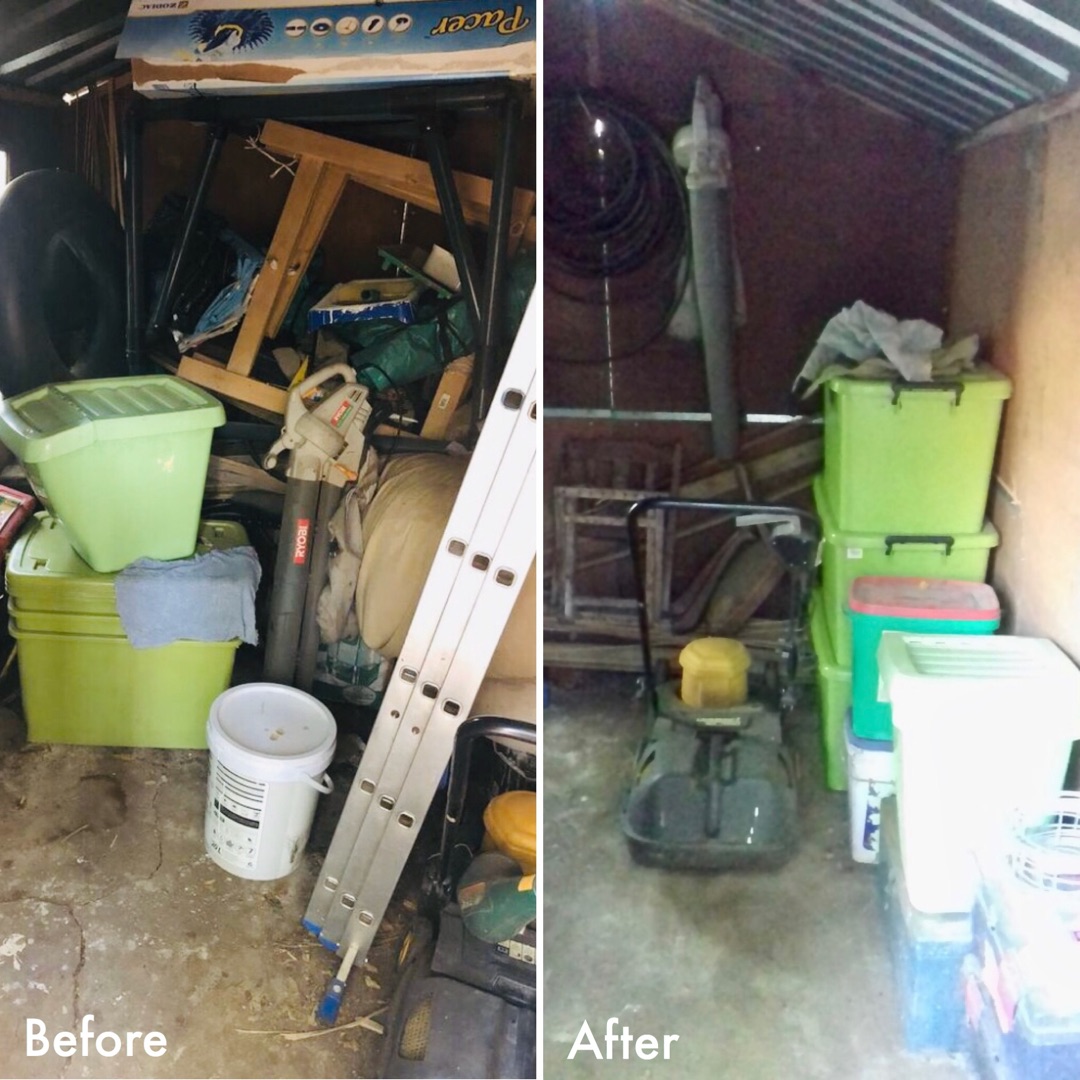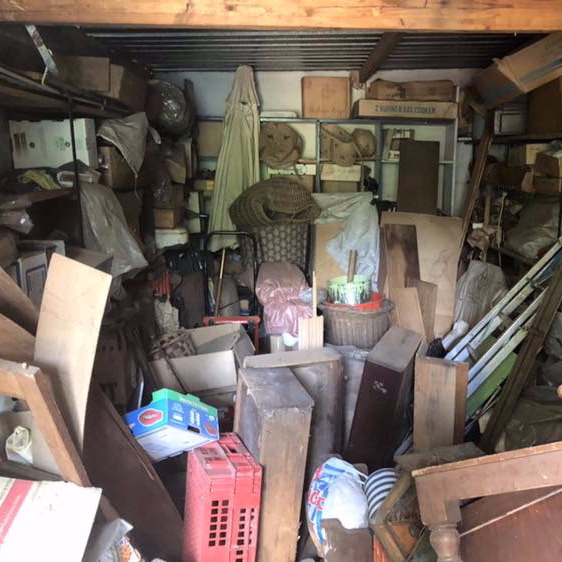 RESPECT YOUR GARAGE AND STOREROOM SPACES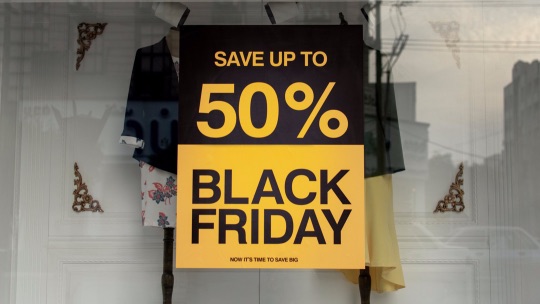 If you combine that space with the effects of living in a consumer societ
y, you have a somewhat toxic combination that we have seen with many of our more than250 clients. 
Our societies are organised around advertising that is intended to make you feel empty. Buying stuff is supposed to fill the emptiness. So, like the rest of us, you weren't (always) strong enough to resist the pull. 
Remember, with a sale, one of the primary weapons of the consumerist society, you have to spend money to save money. If you didn't really need that item, then you spent the purchase price, you didn't save the discount! And, from our perspective, you've gained a clutter item. 

Storytime - Frantic accumulation of stuff
We and most of our colleagues, friends and acquaintances fell into a consumer trap in our early months in Shanghai. Most things were very cheap by comparison to South Africa (and some of it was no doubt fake), so we started accumulating things we didn't really need with an intensity that, with hindsight, was unhealthy. Then we moved from suburbia to the south of Shanghai into an apartment in the central Pudong financial district (for quality of life purposes) and we were, fortunately, forced to confront our excesses. 
This was the starting point for us being happier living with less and stood us in good stead for when we relocated to Hong Kong.
Start with a question. How do you visualise your new life, what are your dreams? Develop or clarify them.

This is an important question, perhaps the most important one to clarify, and for two reasons. You can overestimate the effect of living clutter-free and organised. You can also underestimate it. 
Let's start with the overestimating problem. Psychologists are clear that we habituate to our states of being. You've no doubt read or heard about the famous experiment that proves that both instant millionaires and quadriplegics revert to their pre-event level of happiness rather quickly. We get used to our environments.
Living without clutter and organised will not, on its own, make you happy. But our experience suggests it will likely remove a significant irritant from your life. 

Storytime - The Instagram-worthy pantry
A disorganised pantry is a source of stress for many clients. A particular client had, in our opinion, a beautiful, spacious and well-organised pantry, but her vision for her space was that it needed to look Instagram-worthy, complete with all matching canisters, baskets and other storage solutions. She was clearly very stressed about the pantry in its current state; after completion of the project with us, she was visibly relieved and called all her friends to have a look at it. We underestimated the positive impact that organising her space would have.
Pro-tip -  Organised containers
Use storage containers (existing or new) to contain your items in the pantry. Storage containers don't have to be all the same and made for purpose - cake tins, baskets, empty jars, Tupperware etc all prove to be useful pantry storage containers. Also, group like with like. That way you will be able to tell if you have more than one item and you'll know when it is time to restock.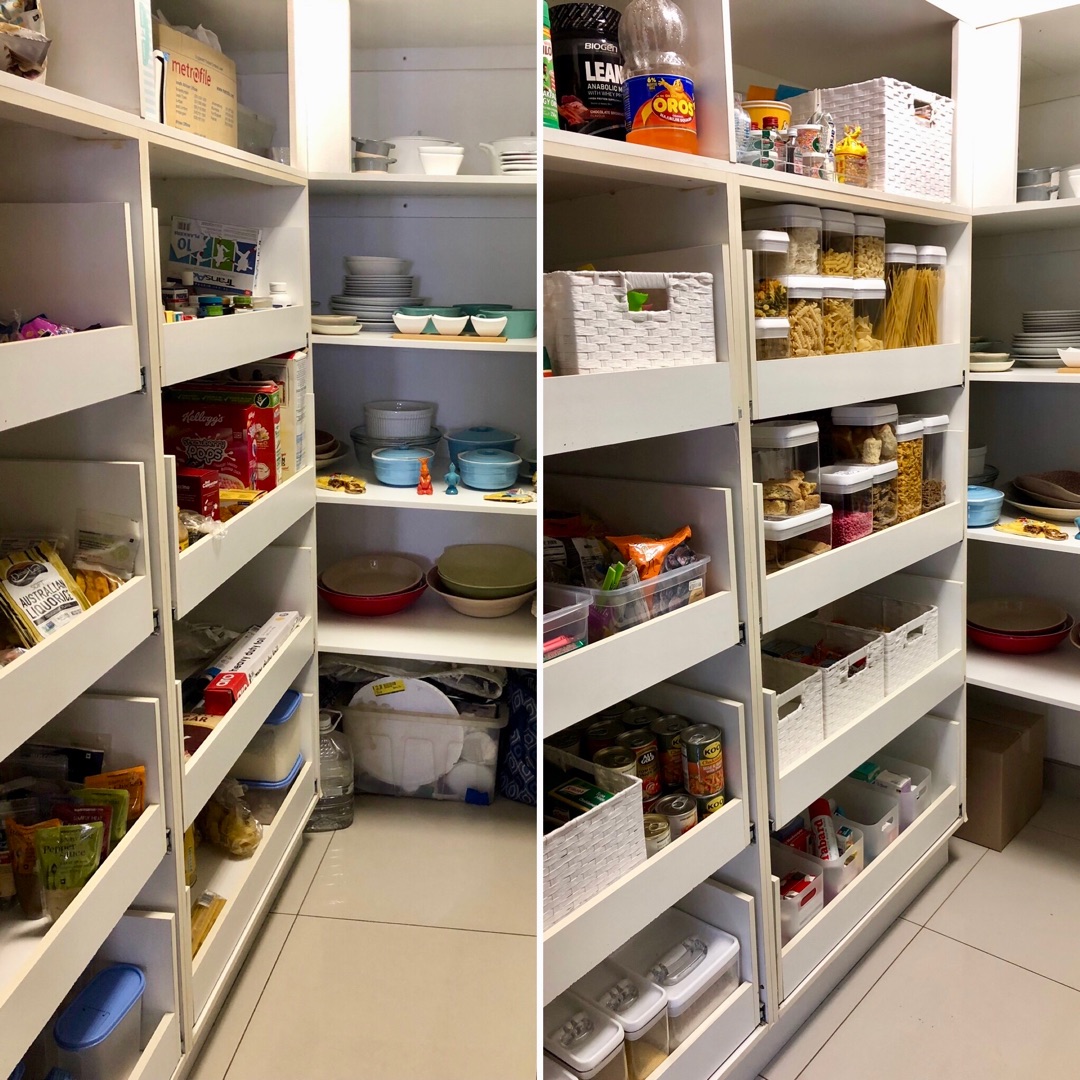 THE INSTAGRAM-WORTHY PANTRY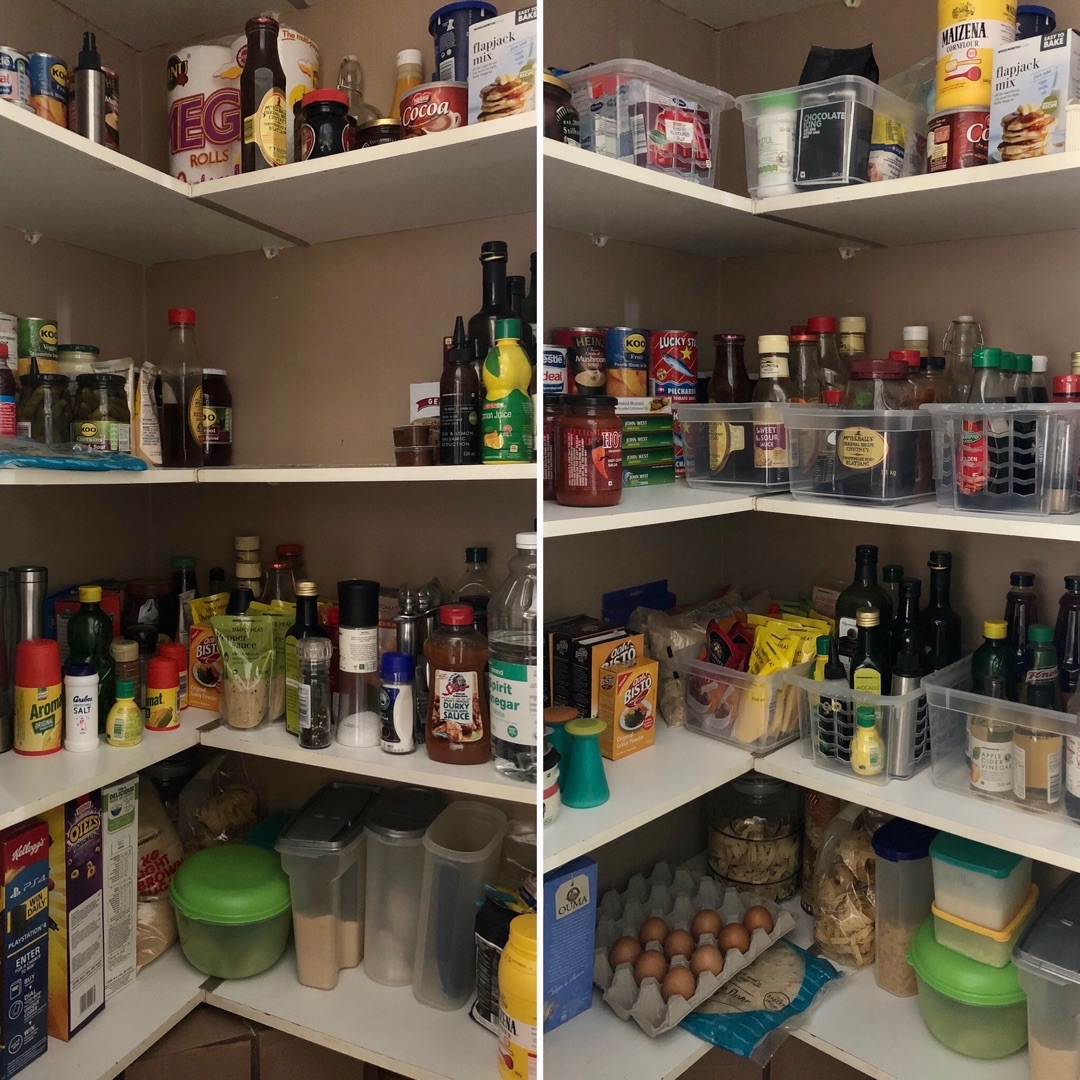 EFFECTIVE USE OF CONTAINERS TO STORE LIKE WITH LIKE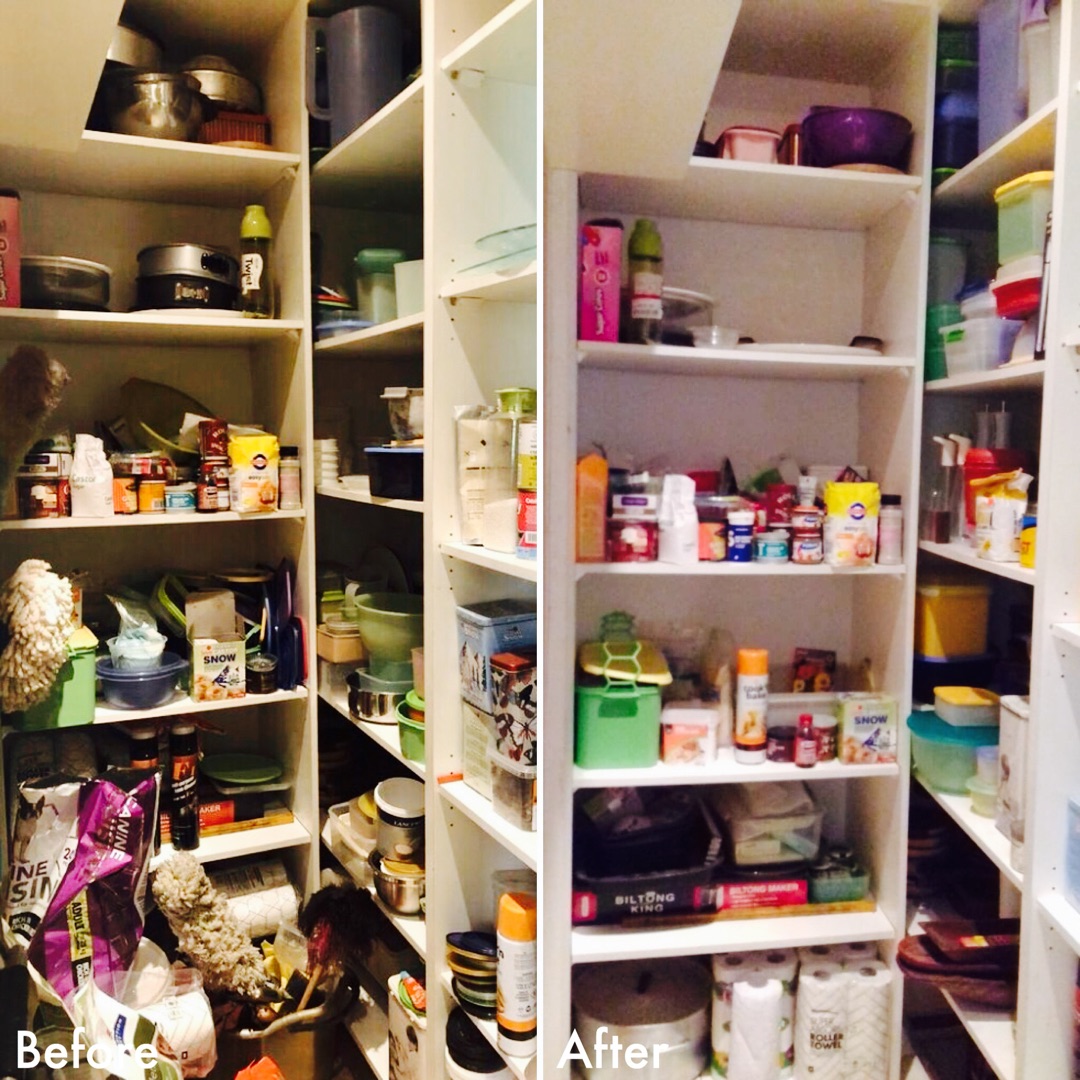 A FULL (BUT WELL ORGANISED) PANTRY
Storytime - Garage envy
As you can imagine, my own personal garage is as neat as a pin, with crates labelled and only necessary items stored there. We had a client, who designed his garage to have the most ideal storage, with peg boards and wall hooks for tools, enough drawers and cupboard storage for every item, all perfectly stored in hanging jars, labelled crates and drawer dividers. We were invited to his housewarming, where my husband took one look at the garage and asked why WE couldn't have a garage like his. We labelled this emotion as 'garage envy', and we use the term often when setting goals for our clients in decluttering their garages.
Only you can tell, and you should think carefully about your likely ongoing response to such a lifestyle. Our clients attest to entering a state of contented equilibrium. There are good reasons for this mood, most of them concrete and practical and not at all esoteric and vague: 
You tend to

find stuff more easily

; 



Storytime - Lost treasure
Many clients find useful stuff they forgot they had! A client was relocating to a retirement home and during the move process we assisted her to empty the contents of her 3 safes in various rooms in the old house. In the one safe, which was stacked with useless and outdated paperwork, we found a small box of coins. When we asked her about the coins, she wracked her brain for a while and then recalled that her husband had helped a friend in the 1950's with a financial issue in his business, and the friend had repaid him with the box of coins. It had been sitting, forgotten, in the back of the safe, covered in paperwork for over 50 years. We sent it to auction for her and achieved a whopping R2.5 million for the contents!

You tend to

feel more in control

- even if you like some clutter (many people swear by this idea for all sorts of reasons), it is below your stress threshold, and so you're in control;



Storytime - A secluded haven
Being a new mom can be overwhelming. A client, who was a mom to twins, had a small home office, which she, before the birth of the twins, used as a study as well as workspace for her online marketing business. However, with the change in her home lifestyle, her home office became a dumping ground for a sorts of clutter. She felt completely overwhelmed, not just with her children, but also with the rapid accumulation of stuff in her home office. After clearing the clutter for her and giving her an ordered and calm space in her home, she became visibly less stressed and felt more in control, knowing that the home office was a part of her life she could control.

You can keep your surroundings

clean and tidy more easily

; it may physically be easier to move around, without having to navigate clutter;



Pro-tip -  Lift stuff up
Try to not store smalls on the floor, as it makes these areas difficult to clean, and tend to be dumping grounds for clutter. Pantries are good examples of where floors generally become storage for larger items, as the first shelf is almost always a distance from the floor - not cleaning these areas is unhygienic.

You're no longer avoiding

memories

, nor are you holding onto them with the assistance of stuff. We will expand on this later. For now, suffice it to say that people who put off a big clean are often motivated by the fear of confronting issues, or of getting rid of things that remind them of meaningful people or events. 



You should envision this kind of future as a start. If it feels right to you, it probably will be a suitable change to your lifestyle. Even if you have no choice (say you have to downsize) you should still start with your, preferably positive, vision. You are likely to feel at least somewhat deprived if you believe such an event to be forced on you.

Storytime - Chocolates on pillows
On almost every job we do, we help our clients through this kind of attitudinal transition: from initially resenting the step-down, to at least accepting it or, ideally, embracing it. Day 1 is inevitably emotionally draining but in every case, it gets easier. 
Vision, which we assist with practically (sorting; deciding; planning; designing), is always the key ingredient. 
We live for the vision realised, the beaming smile after we have performed a 'turndown' service in the new (or renewed) place. A turndown service is adding the little touches that makes one feel at home: a cold bottle of wine in the fridge; working bedside lamps; a new room fragrance, fresh flowers in a vase. It is an analogy to the little touches that hotels add to make your stay feel welcome, the chocolates-on-pillows moments. 

Storytime - A lovely day
We moved an elderly couple from their large family home of 52 years to a retirement home, assisting them to sort and get rid of decades of clutter. At the end of the moving day, when the husband was sitting in his new lounge, together with a cup of tea, surrounded by his special things and no clutter, I wished him a lovely evening in his new home. His reply to me was: "Thanks to you, my dear, every day in my new home will be a lovely one from now on". A heartfelt compliment that just reaffirms why we do what we do.
We want to issue two specific pieces of advice: 
1.   Be realistic 
You may embrace the change, but it may not be the ideal outcome for you, for all kinds of reasons. Being overenthusiastic may lead to disillusionment down the line. 

Storytime - Permanent apartment life was not for us
There are many things we missed intensely during our sojourn in apartments in China. We acknowledged those and looked forward to the period coming to an end, which was the plan. If this had been permanent, we would have had to think long and hard about how to adjust our lifestyles to overcome the perceived hardship.
Storytime - Moving in with a child was not for them
We have a client couple who left their family home reluctantly, to move in with their daughter in another province. They were so unhappy that the situation nearly destroyed their relationship with the daughter. They opted to move into a retirement village nearby, regained their independence and rekindled this most important relationship.
2. Change doesn't happen overnight – take your time in dealing with it 
This isn't a book on change management, and this is a topic on its own. Go through the necessary stages to ensure that the fulfilment of your vision to live organised and clutter free is both real and sustainable. 
Storytime - Pacing change
Unexpectedly losing a life partner is traumatic in itself, without adding a move from the family home into the mix. A client lost her husband of forty years unexpectedly during a routine surgical procedure and made the decision six months later to move away from the memories in their family home. She was not ready to settle into a long term home yet but knew that opting for a transitional solution would give her the breathing space to plan for her future when her grieving became less overwhelming. We assisted her and her pets to settle into temporary accommodation, and although her grief was still evident, she was much happier in her new space, with the knowledge that she had the time to make a decision on her future in her own time. 
In the next instalment of the So Sorted story, we take a look at what is holding you back from moving towards a less cluttered, more beautiful life.